YHC pulled his back two weeks ago today (Jan. 23) at the Zoo trying to fight a burpee, and Q'ing today's first-ever p.m. beatdown was the return appearance, and a pleasure.
Preblast via Slack 3/6/19
@channel! Barring any issues tomorrow a.m. from my mom's hospital visit today, I am optimistic that I'll be back in GR in time to retain my original grab to start the Q tomorrow for our first 5:30-6:15p beat down at Founders. Being the awesome dude he is, @Soft Spot has my back if I have to let off the gas during the workout if my back doesn't cooperate. Gimme those current up-to-date HCs! Who's in for a tour of Beer City USA? Any FNGs out there? And yes, "tour" means moving away from Founders.
AO – Founders
Environment – It was a temperature | Clear, but overcast | Also maybe some % Humidity
:1730 – Core Principles recited. Disclaimer given to 5 PAX: Bald Eagle, Dapends, Gravy and QIC, BasicBro
Warm-O-Rama
Various Stretching
10 Squats
20 SSH
The Thang
97 Bottles of BOB's Brewery's Beer on the Wall
We moseyed from Founders to the Ottawa/Fulton entrance of The BOB. There was a concert happening at 20 Monroe Live and the line was down the sidewalk, so we mixed things up and got right in the middle of the line and exercised on the sidewalk for everyone to see. They're welcome.
Routine: 97 Squats & SSH (because BOB's Brewery opened in 1997, that's why)
In Cadence:
1. Squats (10)
2. SSH (20)
3. Squats (10)
4. SSH (20)
5. Squats (10)
6. SSH (20)
7. Squats (7)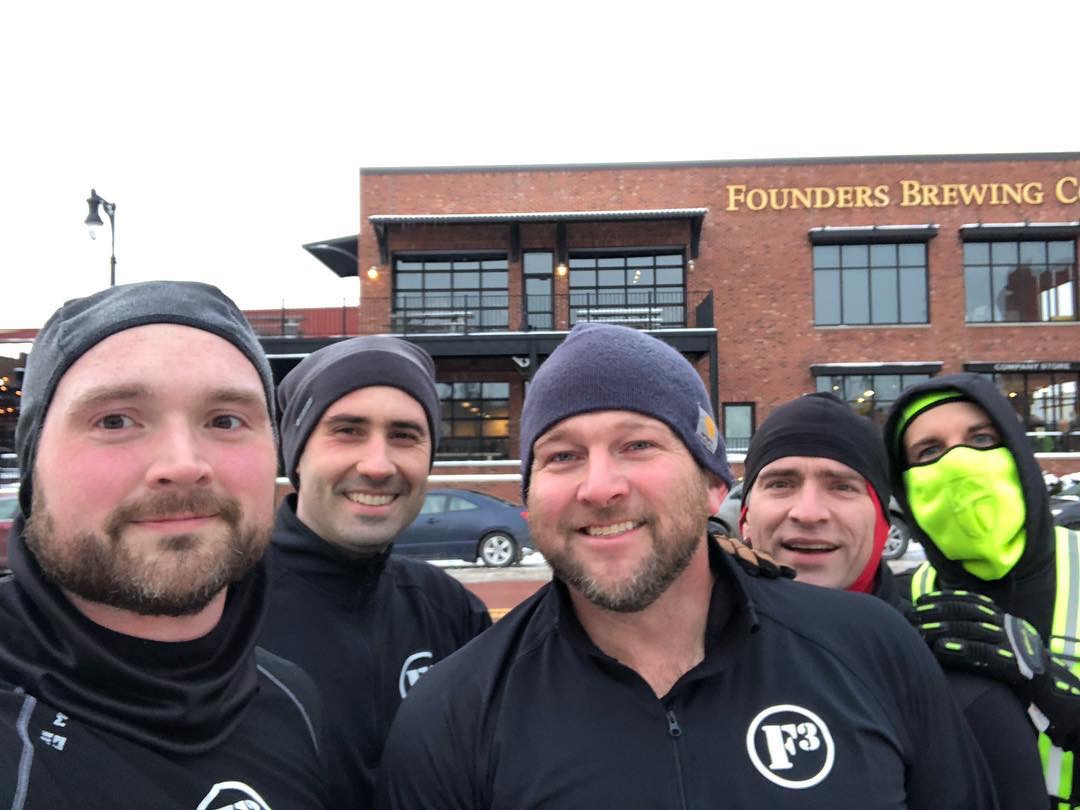 We moseyed to the low stack of steps in front of Van Andel Arena, adjacent to and for the purpose of touring Grand Rapids Brewing Co.
Routine:
G: Grizzcalators across the steps (until PAXs #'d "2" relieved them after they finished Routine "R")
R: Rocky Balboas – PAXs #'d "1" (97 pairs)
BC: Circle Burp (1)
We moseyed to the open sidewalk adjacent to HopCat's entrance.
Routine:
In Cadence:
C: Chilly Jacks (15)
A: Al Gore in a circle, counting in rotation until we got to 97
T: Thigh Masters (10, flapjack, 10)
We moseyed to the bus station sidewalk directly across the street from Founders' entrance.
Routine:
K: Knerkins (10)
B: Burpees (5 + an additional 5 for my mom, courtesy of Gravy, respect)
S: Squats (10)
Leaders Message
Word of the day: Body. Take care of it because even if you don't do anything to ask for it, it could go out on you without notice, and not only inhibit your ability to stay in motion and post, but it can eat away at your emotional strength, too.
Count-O-Rama | Name-O-Rama
Soft Spot
Dapends
Bald Eagle
Gravy
BasicBro (QIC)
Announcements:
– Made the decision to modify the start time to 1800 to give PAX more cushion to get out of work and battle rush-hour traffic
– HDHH at Founders immediately followed the beatdown
Kisses,
BasicBro